By: Grant Flood
After roughly 70 NFL players opted out of the 2020-21 season due to safety concerns amid the nationwide pandemic, college football athletes are allowed to do so as well. A total of 36 players and growing have opted out throughout the college leagues and amongst all the chaos, the Big Ten has made their decision to cancel their season and the PAC-12 may follow suit.
Here are some worthy NFL prospects that have opted out so far:
Caleb Farley, Cornerback, Virginia Tech Hokies:
First major player to opt out in the Power 5 ranks. This upcoming junior snagged 6 interceptions in his first two seasons along with 19 passes defended and a 2020 Jim Thorpe Award finalist. At this pace, he is looking like a middle to late first round draft pick.
Rashod Bateman, Wide Receiver, Minnesota Golden Gophers:
He had 60 catches for over 1,200 yards and 11 touchdowns last season making a name for himself in the NCAA.
Rondale Moore, Wide Receiver, Purdue Boilermakers:
A monster 2018 campaign with 114 receptions for 1,258 yards and 12 touchdowns, he still averaged over 13 yards a catch this past season. These numbers earned him the First Team All-American and All-Big Ten honors along with the Big Ten Freshman and wide receiver of the year.
Micah Parsons, Linebacker, Penn State Nittany Lions:
This tackling machine racked up 5 sacks along with 4 forced fumbles last season.
Neil Farrell Jr, Defensive End, LSU Tigers:
The upcoming senior got to the quarterback 7 times along with 46 tackles last season.
Additional players who have opted out so far:
Jacob Rimmer, Offensive Lineman, Duke
Ben Wyatt, Long Snapper, Duke
Jamarcus Chatman, Defensive Tackle, Florida State
Sedrick Wilson, Defensive Tackle, Houston
Jalen Alexander, Defensive Lineman, Maryland
Austin Fontaine, Offensive Lineman, Maryland
Johnny Jordan, Offensive LIneman, Maryland
Vincent Flythe, Defensive Back, Maryland
T.J. Kautai, Linebacker, Maryland
Jaylen Twyman, Defensive Tackle, Pittsburgh
Chandler Wooten, Linebacker, Auburn
Justin Stevens, Offensive Tackle, Michigan State
Marcel Lewis, Linebacker, Michigan State
Jordan Reid, Right Tackle, Michigan State
Jacub Panasiuk, Defensive End, Michigan State
Gregory Rousseau, Defensive Lineman, Miami
Kerry Martin, Safety, West Virginia
Kassidy Woods, Wide Receiver, Washington State
Pat Nunn, Defensive Back, Washington State
Ra'Von Bonner Running Back, Illinois
Kevin Doyle, Quarterback, Arizona State
Jomaious Williams, Defensive Lineman, New Mexico State
D.J. Ford, Defensive Back, North Carolina
Bryce Watts, Defensive Back, North Carolina
Javon Terry, Defensive Back, North Carolina
Mark Fox, Offensive Lineman, South Carolina
Jordan Rhodes, Offensive Lineman, South Carolina
Cooper Dawson, Defensive Lineman, Syracuse
Daquon Godfrey, Running Back, UAB
Jernard Phillips, Wide Receiver, USF
Oren Milstein, Placekicker, Vanderbilt
No team has been hit worse than the Maryland Terrapins who have by far the most players at 7 opting out, losing key offensive and defensive units along with their quarterback, Josh Jackson. He was entering his senior year with an impressive 4,840 passing yards and a solid 37-16 touchdown to interception ratio. Due to Jackson's decision, Alabama Crimson Tide, quarterback, Taulia Tagovailoa will transfer to Maryland to try and win out the starting gig and in hopes to follow his brother's footsteps to the professional level.
A Statement from Head Coach Michael Locksley.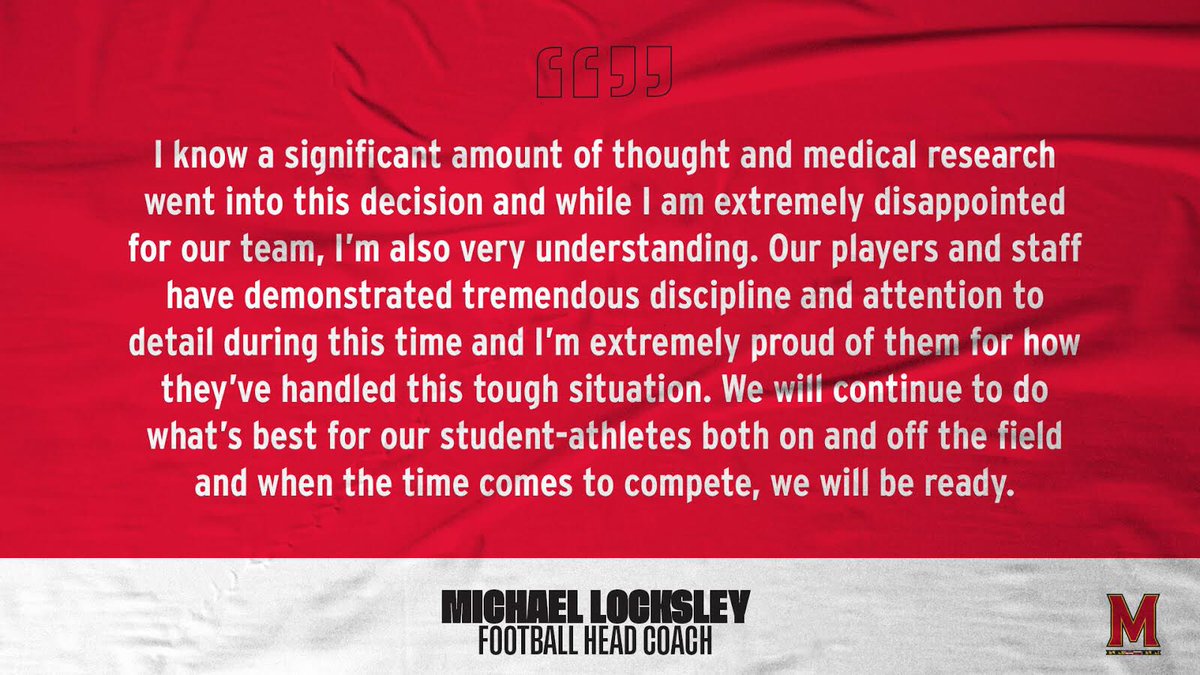 Originally tweeted by Maryland Football (@TerpsFootball) on August 11, 2020.
On the flip side, some college football stars have started the "We Want To Play" movement, #wewanttoplay to have their voices heard in salvaging the 2020-21 season. This group of athletes involves quarterback, Clemson Tigers, Trevor Lawrence, quarterback, Ohio State Buckeyes, Justin Fields, running back, Alabama Crimson Tide, Najee Harris and countless others. Essentially, their main goal is to create a college football players association.
As of last week, the NCAA Board of Governors announced schools and conferences can determine if NCAA sports and championships will occur in the fall. Schools have a deadline of August 14th to determine the eligibility of accommodations for student-athletes who opt out of fall college sports. The final decision will be determined by the board after August 21st. To date, NCAA Division II and Division III have canceled fall championships, Division I will be decided per the discretion of each school adhering to their local, state and federal guidelines. The NCAA as a whole has opened a can of worms by not making a direct decision on important issues like retention of scholarships and eligibility of athletes who opted out. Could there be a fair and equitable solution for the NCAA and student-athletes? Stay tuned.