The Boston College Eagles finished with a solid 6-5 record in the 2020 NCAA season and showed much optimism in the future with current Redshirt Sophomore quarterback, Phil Jurkovec leading the charge. That being said, first year head coach, Jeff Hafley, is showing lots of progress with his inexperienced group on both sides of the ball. On December 10th, the team decided to opt out of its bowl game appearance, as the Eagles were emotionally, physically and mentally exhausted playing during the pandemic. To prepare three weeks for the bowl game, it would include missing the holidays with their families and not knowing if the game will be cancelled, as a whole, the team's No. 1 priority is the players' wellness. With a football mentality, a team plays with intensity and grit from their first game to their very last game, however, due to the unique year with no fans and limited practices, kudos to the players and coaching staff for being the first school to opt out of their bowl game making it clear health comes first.  Without the bowl game, Boston College will finish with their first winning record since 2018 going 7-5. 
The season started off strong going 2-0 over Duke and Texas State, followed by Week 3 Boston College came close in upsetting the 15th ranked University of North Carolina, 26-22. BC would add their total in the win column against, Pittsburgh, Georgia Tech, Syracuse and Louisville. However, losses to Virginia Tech, 4th ranked Clemson Tigers, 2nd ranked Notre Dame and Virginia kept BC unranked for the season.
This year, Boston College's recruiting was heavy on the defense, 7 players added to the secondary and 6 players on the defensive line. However, a big gaping hole is left to fill in the tight end position as Hunter Long has declared for the 2021 NFL draft. He was one of Jurkovec's favorite targets, in his 3 years with 89 passes for 1,297-yards and 9 touchdowns. This season alone he tallied career highs with 57 receptions for 685-yards and 5 touchdowns. Spencer Witter is the only probable player for taking over the position as he caught 6 passes for 68-yards as the fact remains, Drew McQuarrie and Joey Luchetti both saw zero action this season. 
80 out ✌🏼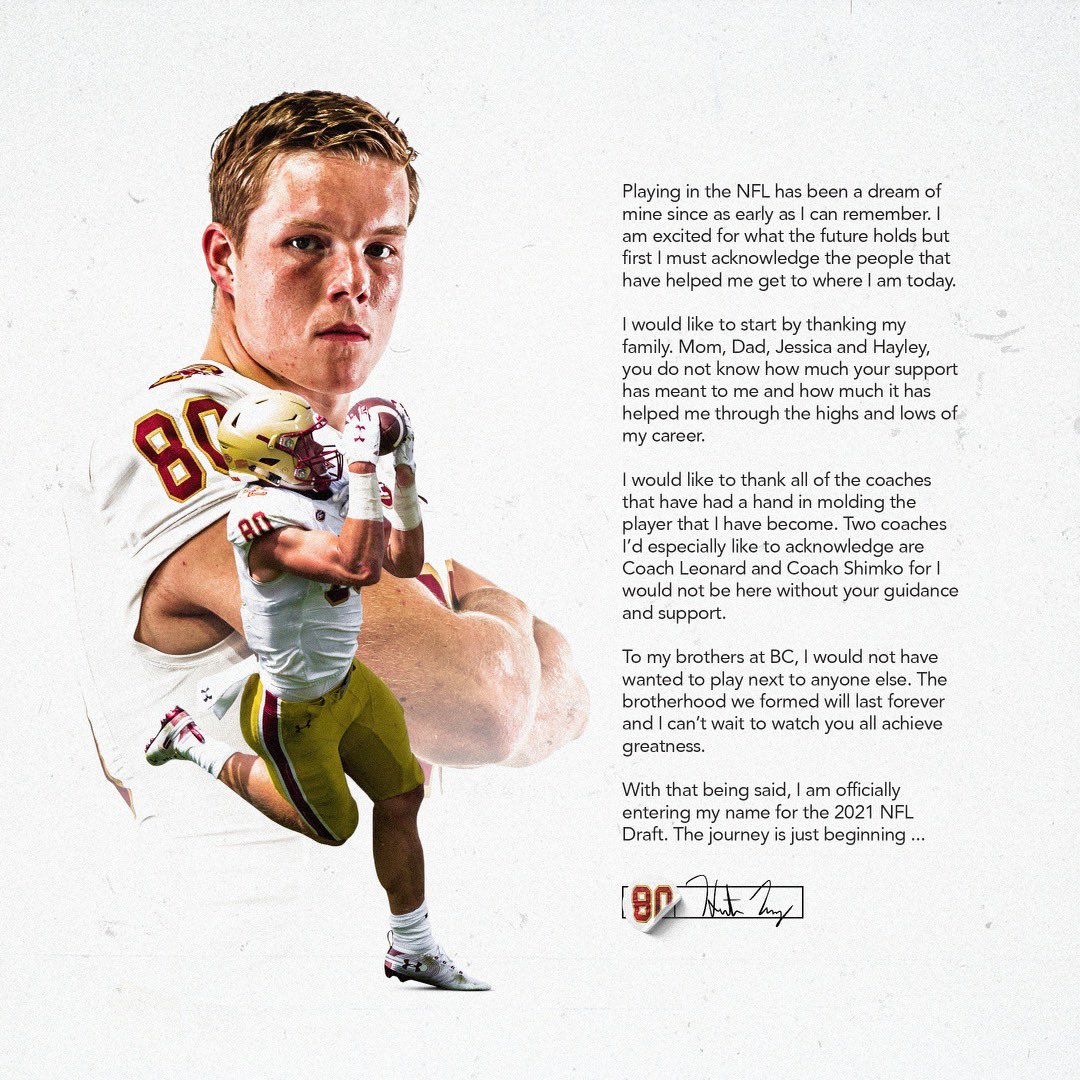 Originally tweeted by Hunter Long (@HunterLong80) on December 17, 2020.
Boston College football earned a highly rated 2021 recruiting class as ESPN ranks the school No. 38 in the country which is the best in school history, contributed by Coach Hafley's endless determination all done on a computer screen during the pandemic. Furthermore, according to Pick Six Previews on Twitter, Boston College has a +26 rating in Best 2021 Rankings compared to the previous 5-year recruiting average. 
Some key new recruits to lookout for are DB, CJ Burton from St. Frances Academy in Maryland, ranked No. 3 cornerback in the country, local native LB, Owen McGowan from Catholic Memorial ranked No. 4 player in Massachusetts by ESPN and lastly, 6'8 OL, IIija Krajnovic from IMG Academy, Florida, originally from Serbia, a "monster athlete" who also competed in, basketball, mixed martial arts, soccer, volleyball and water polo at his time in Serbia. 
With the difficult season coming to an end, the Boston College Eagles are on the radar as a top contending 2021 team, with major key players returning with the addition of promising young stars, the Eagles can breakout and become a serious threat in the short term future.