By Andre Monroe

The Ben Simmons saga has run its course. The Sixers have not looked terrible without him, but to reach their potential they will need a return on the $117 investment that is Ben Simmons.

The question is: What is a good trade package for Ben Simmons? Daryl Morey has yet to budge or show desperation. Reports have shown he wants at least a top-25 player, and it's looking like he won't settle for less.
 
Time is ticking. Joel Embiid is in his prime and pairing him with a co-star is crucial. One that'll compliment Embiid and not disappear when the lights brighten. 

These five trades I've come up with put the Sixers in the position to take advantage of Embiid's prime and ultimately win a championship.  
1. The Pacers decide enough is enough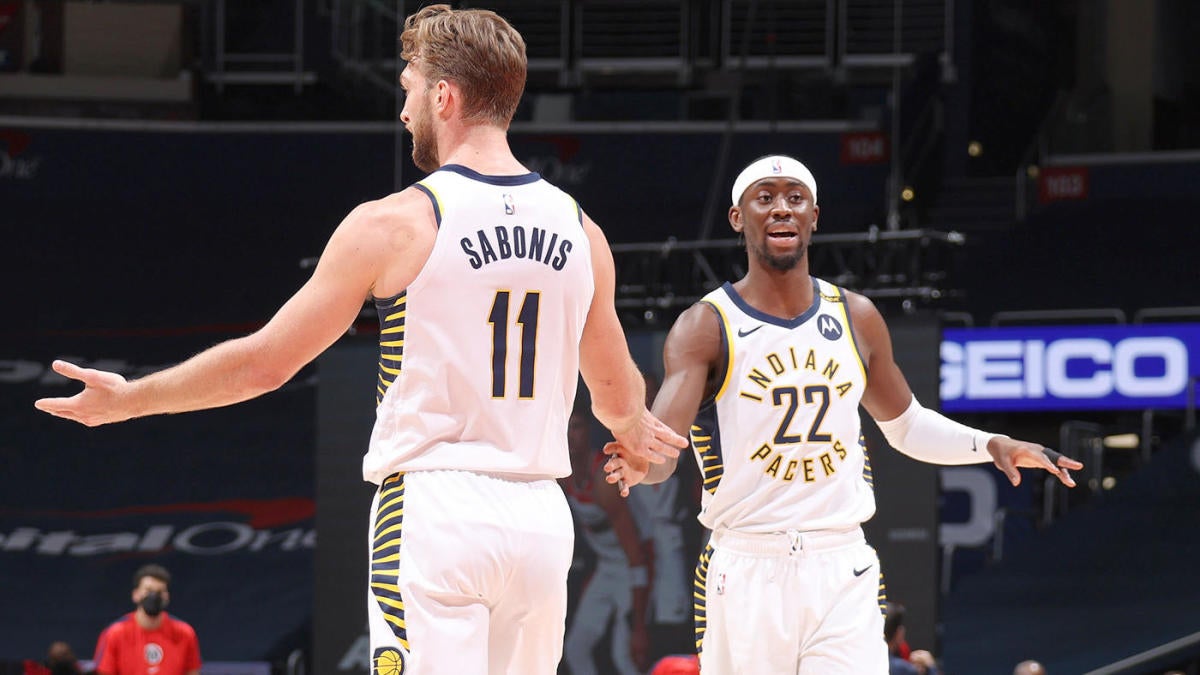 As a rebuild appears on the horizon for the Indiana Pacers, talks around trade packages have begun to heat up. Domantas Sabonis and Myles Turners have been at the forefront of these trade rumors. They're the Pacers' best players, but not nearly as good to be the franchise saver.
Philadelphia 76ers Recieve: PF Domontas Sabonis, SG Caris Levert, 2022 first-round pick (unprotected)
Indiana Pacers Recieve: PG Ben Simmons, SF George Niang
This is a meet-in-the-middle trade for both teams. The 76ers don't get a star player as they'd hope for, but they do get a borderline all-star in Sabonis and a productive bucket-getter in Caris LeVert.

The Pacers get an all-star in Ben Simmons who is still young and has yet to reach his potential. Along with a consistent bench player in George Niang. A trio with Ben Simmons, Malcolm Brogdon, and Myles Turner gives hope to Pacers fans. With good depth to go along with it, the Pacers are a young playoff team with potential.

The 76ers get rid of the distraction that came with Simmons' presence or lack thereof. They lose the defense but will have scorers in Sabonis and LeVert to alleviate Joel Embiid. If they move Tobias Harris for a two-way scorer, the Sixers could be back in business.
2. Bradley Beal escapes Washington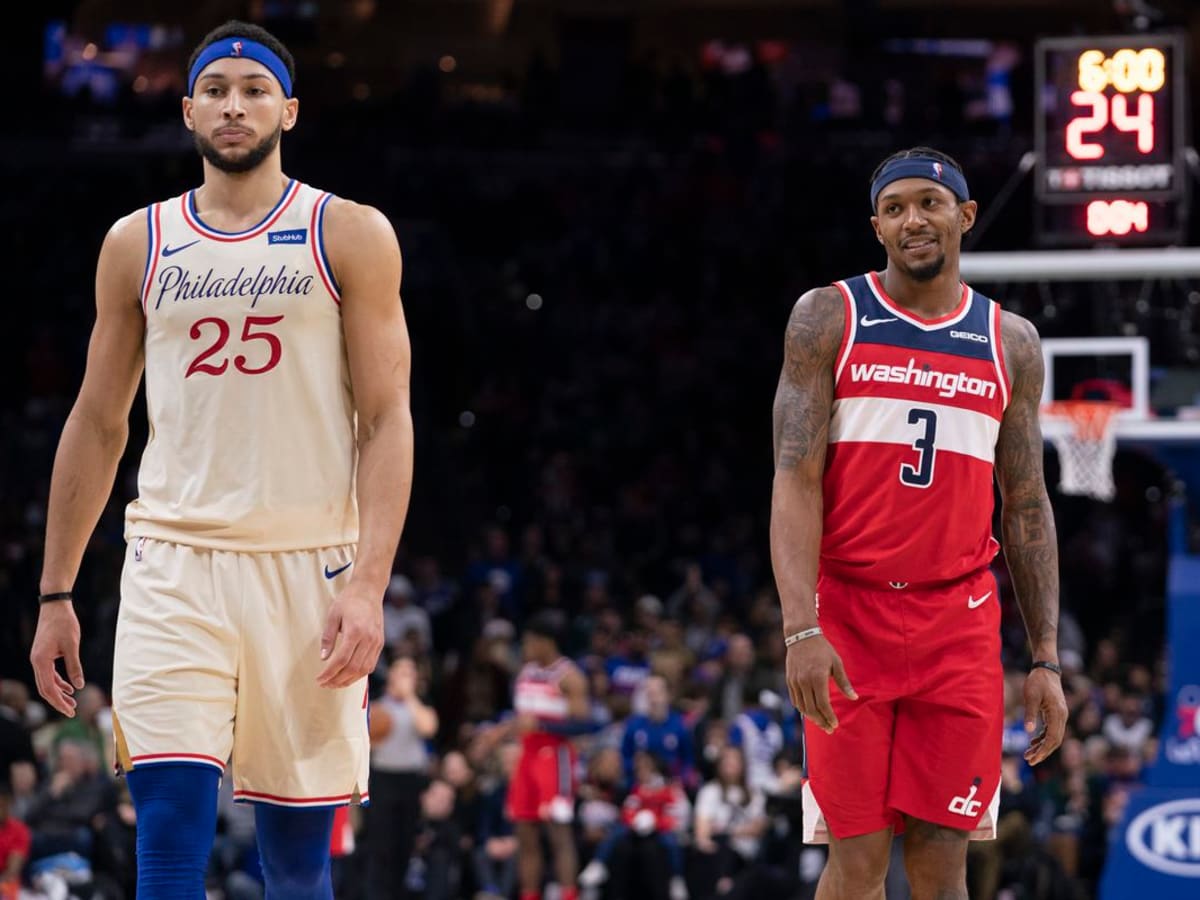 The Bradley Beal era in Washington needs to end. The Wizards started the season off on a hot streak, winning 10 out of their first 13 games. Since then, they've lost 10 out of 17. Beal is nearing the end of his contract in Washington. He's yet to commit to Washington, even when asked. It'll take a lot to pry Beal out of Washington. The Wizards are still committed to building around him, but it's time to let him go.
Philadelphia 76ers Recieve: SG Bradley Beal
Washington Wizards Recieve: PG Ben Simmons, SG Mattise Thybulle, SG Seth Curry, 2022 first-round pick (unprotected), 2024 first-round pick (unprotected)
The 76ers get precisely what they want out of this trade. A borderline top-10 player to pair with their star Joel Embiid. Someone who can space the floor while taking the ball out of Embiid's hands and acting as a closer. With Beal, the Sixers' championship hopes are back in full effect.

Ben Simmons is an excellent fit for the Wizards because of his playmaking skills without needing to be the primary ball-handler, in return allowing younger players to thrive. Simmons led the league in assisted threes last season and can have a similar impact for the Wizards. Thybulle will be a great 3&D addition for the Wizards, emphasizing the defensive. Thybulle's scoring has dropped this year with the absence of Simmons' playmaking, but he's still shown promise on the offensive end. The Wizards get added depth in Shake Milton, who has shown promise as a primary scorer off the bench.

Wizards fans might be hesitant about giving up Beal, but you'd rather get a package for him rather than lose him in free agency.
3. The Spurs shake it up
Philadelphia 76ers Recieve: PG Dejounte Murray, SF Doug McDermott, PF Zach Collins, 2022 first-round pick (unprotected)
San Antonio Spurs Recieve: PG Ben Simmons, PF Paul Reed
Dejounte Murray has remained one of the NBA's most underrated players this year. Playing in San Antonio certainly doesn't help. This season, Murray has been a consistent #1 option, averaging 18PTS-8AST-8RBS on average shooting splits. Murray and Simmons are the same age at 25 years old. The Spurs would be getting an all-star in Simmons who will benefit immensely from a change in culture. What better than joining the hall of fame coach Greg Popovich who's praised Simmons on multiple occasions.

Dejounte Murray can join Philly and immediately impact a team that's in win-now mode. Ben Simmons has his issues, but the Spurs aren't in win-now mode and can commit to refining the all-star who is Ben Simmons. The Sixers get much-needed wing depth in Doug McDermott and Zach Collins, who will help come playoff time.
4. The Timberwolves Get the Prototype They Need
Philadelphia 76ers Recieve: PG D'Angelo Russell, PF Jaden Mcdaniels, 2024 first-round pick (unprotected)
Minnesota Timberwolves Recieve: PG Ben Simmons
According to Brian Windhorst of ESPN, the Timberwolves have offered every possible package to the Sixers to acquire Simmons, except Karl-Anthony Towns and Anthony Edwards. Daryl Morey might disagree with my trade suggestion here, but it's time to get realistic.

D'Angelo Russell is still very young and an exceptional scoring guard. He's received criticism for consistency issues and his proneness to injury, but he's an immediate upgrade to the Sixers if traded there. Russell is a combo guard who can score and get his teammates involved. Unlike Simmons, he can be a go-to option down the stretch.

For the Timberwolves, Simmons is a much better fit for the point guard position. The Timberwolves have had scorers for years with nothing to show for it. Ben Simmons can immediately improve the defensive side while adding his elite playmaking skills on the offensive side, especially in transition. Playing alongside Anthony Edwards and Karl-Anthony Towns will allow Ben Simmons to be the attacker on offense as he won't need to carry the load.

The Timberwolves will have to work with Simmons, but a change of scenery will already be a step in the right direction for his development.
5. A Four-Team Trade Shakes up the NBA
Philadelphia 76ers Recieve: PG De'Aaron Fox, SF Harrison Barnes, PF Darius Bazley
Sacramento Kings Recieve: PF Tobias Harris, SG Josh Giddey, SF Doug McDermott, Chicago Bulls future first-round pick (From Spurs)
Oklahoma City Thunder Recieve: PG Ben Simmons, PF Chimezie Metu, Sixers 2022 first-round pick (lottery protected)
San Antonio Spurs Recieve: PF Marvin Bagley
There have been recent developments in the Ben Simmons trade saga. According to Marc J. Spears from The Undefeated, the Sixers are looking to package Tobias Harris with Ben Simmons in trade talks. The Sixers would need to make a three-team trade to pull this off, as I don't believe any team would take on Simmons and Harris in the same transaction. The NBA always provides us with drama; this wouldn't be any different.
Let's start with the Sixers. This would be their projected starting five.
PG: De'Aaron Fox
SG: Seth Curry
SF: Danny Green
PF: Harrison Barnes
C: Joel Embiid
Trading both Ben Simmons and Tobias Harris would shake up the Sixers roster. However, the improvement that comes with it is worth it. You have a 24-year old De'Aaron Fox who can alleviate pressure from Embiid with his scoring and be an effective playmaker and off-ball cutter—paired in the backcourt with Seth Curry, one of the best shooters in the league who can score in the mid-range and move without the ball. The scoring improvement doesn't stop as you get the veteran averaging 16PTS on great shooting splits. Harrison Barnes is as consistent of an NBA player as they come over the seasons. This lineup pairs Joel Embiid with the shooting and scoring fans have desired for years.

That's just the starting lineup. The Sixers still have Tyrese Maxey, who will be forced into the sixth-man role with De'Aaron Fox starting. This role still gives Maxey the ability to develop and get meaningful minutes in games. After Maxey, there is still Mattise Thybulle, Darius Bazley, and Andre Drummond. The Sixers will be in the driver's seat to compete in the Eastern Conference with this trade.
Onto the Kings. This would be their projected starting lineup:
PG: Tyrese Haliburton
SG: Davion Mitchell/Josh Giddey
SF: Buddy Hield
PF: Tobias Harris
C: Tristian Thompson
Losing De'Aaron Fox, Harrison Barnes, and Marvin Bagley is not as big of a deal as it seems. The three players have been dangled in trade rumors for some time now. De'Aaron Fox has voiced his dissatisfaction with the team recently. The drafting of Davion Mitchell and the emergence of Tyrese Haliburton have forced the Sacramento Kings to choose who they want to lead the franchise from now on. Marvin Bagley will be out of the door as soon as he gets the chance; get compensation while you can.

With the trade, Tyrese Haliburton and Davion Mitchell will grow into the players they can be. Tobias Harris, averaging 18PTS-7.5REB-4AST, will come in and make an immediate impact. His three-point percentage has dropped with the loss of Ben Simmons, but he is still shooting well from the field at 46%. He brings immediate impact on both ends of the floor and leadership on the team.

The Kings are also getting Josh Giddey, the sixth overall pick in the latest draft. He already has made some noise, becoming the youngest player in NBA history to record a triple-double. Giddey is averaging 30 minutes a game and has become a dependable player for OKC Thunder.

Doug McDermott adds another seasoned vet to a Kings team that desperately needs one. He brings reliable scoring off the bench with 11PTS a game on 40% from beyond the arc. This trade allows the Sacramento Kings to settle and make a push to end their playoff drought.
Oklahoma City Thunder: Projected starting-five
PG: Ben Simmons
SG: Shai Gilgeous-Alexander
SF: Lu Dort
PF: Chimezie Metu
C: Derrick Favors
The OKC Thunder will need to turn their assets into results at some point. This trade might not yield immediate results, but it puts the Thunder on a faster path.

The trio of Ben Simmons, Shai Gilgeous-Alexander, and Lu Dort can evolve into a three-headed monster in the near future. The thought of having to play offense against both Dort and Simmons should scare defenses across the league. The arrival of Ben Simmons will make Shai's job easier as he won't have to be the primary ball-handler and playmaker in every possession.

Spacing is one of the issues that may come forth, but Dort uses his size to get to the basket quickly and has also been improving from beyond the arc. Ben Simmons won't have to deal with the pressure of playing on a team in a win-now mode in OKC. I still have faith in Ben Simmons' potential, and OKC is a place where he can finally live up to it.
San Antonio Spurs: Projected starting-five
PG: Dejounte Murray
SG: Lonnie Walker IV
SF: Keldon Johnson
PF: Marvin Bagley III
C: Jakob Poeltl

Marvin Bagley has not met expectations as the No. 2 overall pick in the 2018 NBA Draft. Bagley has struggled to stay healthy and has not put up the gaudy numbers the players drafted after him have. However, organizational failure has played a part as well. The Sacramento Kings have been dysfunctional and having Luke Walton as the coach hasn't helped Bagley.
When Bagley has played, he's shown potential. He's a big man who can space the floor as a solid third option. Bagley has averaged 14PTS & 7REB on 49% shooting from the field in his first few years. He's only 22, and a change of scenery could catapult Bagley into a more productive player. San Antonio could be that change of scenery. They have a great coaching staff led by Greg Popovich that could mold Bagley into the player that made him the No. 2 overall pick. It's a subtle move, but it could prove beneficial for the Spurs.




Stats used by NBA.com, ESPN, Baksetball Reference. Stats Accurate as of Jan. 11